The secrets of effective rounding . . .
- Charlie K. Dawson, MBA, CPC
"What once was, will inevitably, be again."
- every sage person in every book & movie ever written
Why do we round?
It's a common question that arises when rounding has failed to provide a measurable result for the organization, its patients or its medical staff.
It takes time. It's repetitive.
IT'S BORING!
We do it and nothing changes! We still have to make calls and say, "stat" even though we know it has lost all meaning. We still have to chase down physicians to get orders written. We still have to wrest needed diagnostic results from the departments that produce them & we still have to "gather in" and "propagate out" necessary information through the infinitely long link of daisy chain that is our communications paradigm.
Oh yeah . . . And it's got nothing to do with ME! I NEVER have anything to add. It is pointless, wasteful and above all . . . Ineffective!
Sound familiar?
If it does, maybe it is time to remind ourselves what the original intention of rounding was . . . Back in the day . . . When it worked! And maybe, if we remind ourselves of the basic rules that make rounding effective, we still have a chance to reinvigorate our efforts and benefit our patients!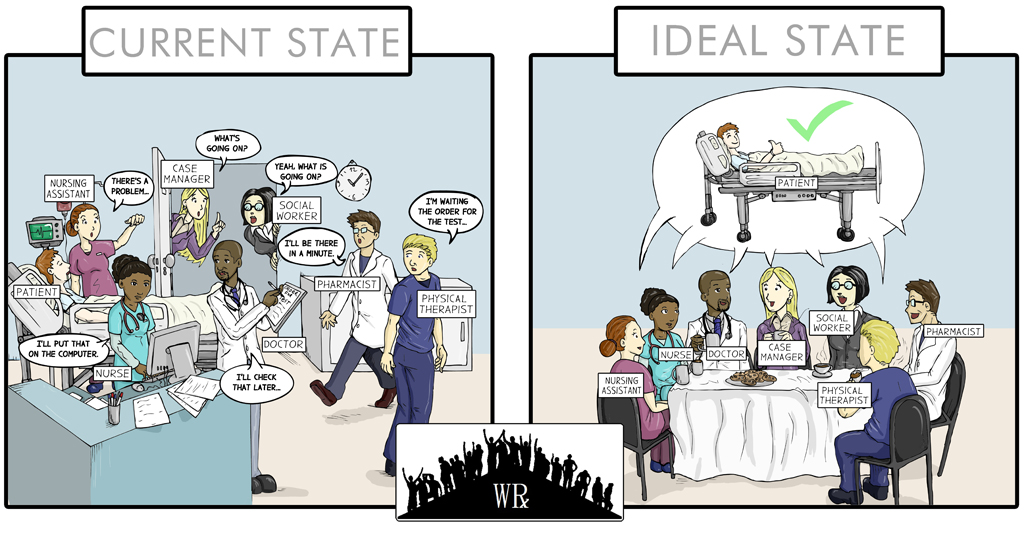 THE POINT OF ROUNDING IS . . .
To cut short the daisy chain of sequential communication and put all the right people together at the same time so that real time problem solving occurs on behalf of patients!
To create prioritization from chaos and allow caregivers in ALL departments (not just nursing) to know enough about every patient that they are able to order their own activities by criteria more meaningful than just: emergent/non-emergent, stat/routine!
To allow a TEAM to catch things based on the totality of information about a patient (subjective, experiential & observed) rather than on just the limited "captured" information.
So if those were (and still should be) the GOALS of rounding, what were the rules . . .
Rule #1: MAKE SURE SOMEONE IS IN CHARGE!
There needs to be a facilitator, a person whose primary role is to:
make sure the right questions are asked,
ensure that participation is occurring,
that each participant leaves knowing what their responsibilities are &
keep the pace of the round high and people on task
Rule #2: MAKE SURE YOU ONLY TALK ABOUT WHAT MATTERS.
Rounds are NOT the place for "catching up" with each other, nor are they the appropriate venue for calling report or basic status updates.
Start with a 10 second patient summary that includes:

Name & Room number
Day/date of admission
Admitting DRG/State
Anticipated discharge date (Geomean MINUS 15%!)

Ask, "Has anything MEANINGFUL changed that we need to talk about?"
Ask, "Has anything WEIRD or ODD happened with the patient that we need to address or discuss?"
Ask, "What are the top 2-3 things from the readmission risk assessment that we are working on with this patient & what is our plan for them?"
Ask, "Is there anything anyone needs help getting done to ensure we can discharge the patient on time?"
Ask, "Is our discharge plan to home, a sub-acute, etc . . . And what have we done to make sure those arrangements are made and the patient is ready?"
Ask, "What type of insurance do they have and what financial burden will our discharge plan cause?"
Rule #3: ROUND ON EVERY PATIENT, EVERYDAY!
Condition, circumstances and the availability of information change hourly. As a result, Rounding outcomes improve with frequency! The more often, the more effective! Something caught today avoids a delay today and improves outcomes tomorrow!
Rule #4: ASK EACH PARTICIPANT TO THINK ABOUT "What's Possible" FROM A NEW PERSPECTIVE!
Before starting rounds each day, consider as a group how your individual and collective behaviors would change if each patient were: your parent, your child, or your spouse.
What new urgency would be brought to bear?
What barriers would be overcome?
What solutions would be found?
Remember . . . Every one of your patients IS someones, parent, child and/or spouse!
Rule #5: REQUIRE PARTICIPATION FROM EVERYONE!
If a single patient even one time, could have their care more effectively facilitated by the participation of a single modality/specialty, then that modality/specialty should be represented in EVERY ROUND, EVERY TIME! At a minimum the following participants should be in every round:
all therapies (physical & respiratory)
bedside nurse
case/care management
social worker (if different than CM)
Clinical Documentation Specialist or Coder
Pharmacy (at a minimum for antibiotic stewardship)
Imaging
Lab
Nutrition Services
Rule #6: DOCUMENT, DOCUMENT, DOCUMENT!
Create a rounding sheet for every patient that has at a minimum 3 days worth of data on a single page. USE it without fail!
Rule #7: TAKE YOUR TIME!
Rounding should never be perceived as, "in addition to" current work, rather as, "in leau of" current work.
When done right, rounding actually saves participants hours of wasted and duplicative effort daily.
Effective rounding also cuts down on meaningless "stat" calls, pages and the requisite responses to them!
Effective rounding creates instant prioritization of workload for all departments participating (you know what to "do first")
Rule #8: TAKE TURNS!
Even the most reticent participant gains benefit from leading/facilitating rounds. Develop a system that allows every team member at least 1 turn to lead during the first 6 months of rounding! Sometimes the best facilitators are NOT whom you first expect!
Rule #9: IT'S ABOUT THE PATIENT DUMMY!
There is a quick method to test if your rounds are producing the results they are designed to . . . Ask yourselves (the entire rounding team) the following questions:
Are we "catching" things (clinically) that we weren't catching before the rounds or . . . are we catching the same things quicker with the rounds?
Are we reducing avoidable readmissions? (because we are discussing/anticipating readmission risks for each patient & building plans to overcome them PRIOR to discharge).
Are we reducing our Case-Mix Adjusted Length of Stay? (By providing more efficient care and by identifying comorbidities and accurate DRG's earlier in the continuum of care).
In the final analysis, we all know that hospitals are not safe places to be once the medical necessity of a stay is overcome. As a result, out goals should be to foster amazing real-time communications & collaboration because NO patient is better served by waiting out a delay that could have been avoided!